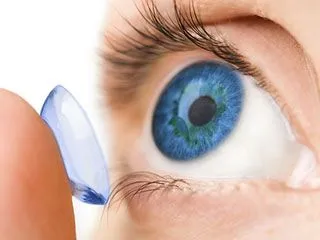 Contact lenses can provide some of the most natural, comfortable, and seamless vision correction available. Dr. Orr and Dr. Yu are skilled contact lens fitters and can provide you with a huge variety of vision correction options.

Can I wear contact lenses?
Most likely, yes! Many people who we fit have been incorrectly told they cannot wear contact lenses, assumed they can't, or have never considered it in the first place. Advancements in lens technology allow us to solve issues with astigmatism, dry eyes and multi-distance vision. Don't let that pair of lenses you tried on back in 1987 convince you that you can't wear lenses...technology changes! Afraid to touch your eyes? You can do it with patience and motivation, and we will help you every step of the way! Tired of walking around with a pair of cheap over-the-counter readers hanging around your neck? Multifocal and monovision contacts can help you see clearly at distance and near without having to put on reading glasses!

The fitting process
Prior to prescribing contact lenses, our doctors will perform a comprehensive evaluation of your vision and ocular health. Based on these measurements, Dr. Orr and Dr. Yu will determine and discuss your contact lens options. Unless there are reasons preventing you from successfully wearing contacts, they will proceed to place trial contact lenses on your eyes. Lamorinda Optometry has thousands of contact lenses in our in office fit sets. These lenses will allow our doctors to assess fit, comfort, and vision. Once they have found a candidate lens, we then train you on how to insert, remove, and wear contacts. This part of the process is critical to your success, and we take great pride in our training and patience with this part of the process. From there, we test drive the lenses in the real world to optimize and fine tune your vision and contact lens experience. Once we have found the right lens for you, we finalize the contact lens prescription and you are good to go.